5 SIMPLE STEPS TO CLEANING YOUR FINGERPRINT READER
Fri Dec 10 2021
Written by: Odafe David
Earlier this week, we had a support request from a company complaining about the fingerprint sensor of their time attendance device. We requested the device to be sent over and when our fantastic team of engineers checked the device, we found residue of water on the sensor. When we called to discuss our findings, they confirmed they had been cleaning the sensor with cotton wool and water.

Really? Chief no be so o. 

Inspired by that event, I have decided to talk about your fingerprint sensors and how you can get them clean.

First, what is a fingerprint sensor?

A fingerprint scanner/sensor/reader is a technology that recognizes and authenticates an individual's fingerprints to permit or refuse access to a computer system or physical location.

It's a sort of biometric security system that identifies an individual's fingerprint scans using a mix of hardware and software procedures.
It is necessary to keep the fingerprint scanner clean and free of dust and scratches for it to work correctly.

Though the biometric fingerprint reader is forgiving of surface contaminants, it operates best when it is maintained clean. Fingerprint scanners must be properly maintained to ensure their longevity, sanitation, and use.

These are 5 simple  biometric fingerprint sensor cleaning recommendations that we advise for optimum performance of your biometric devices:
Step 1: Turn off the power source to the device
Step 2: Wet a lint-free cloth (not paper or tissue) with (1-2ml) ethanol at a 75% concentration.

Step 3: Gently dab the window (do not wipe) of the biometric fingerprint sensor with the damp lint-free cloth.
Step 4: Repeat steps 1-3 until the fingerprint sensor is thoroughly clean (make sure there is no remaining solution on the fingerprint sensor's surface).
Step 5: After the biometric fingerprint sensor has dried, you can reconnect it for use.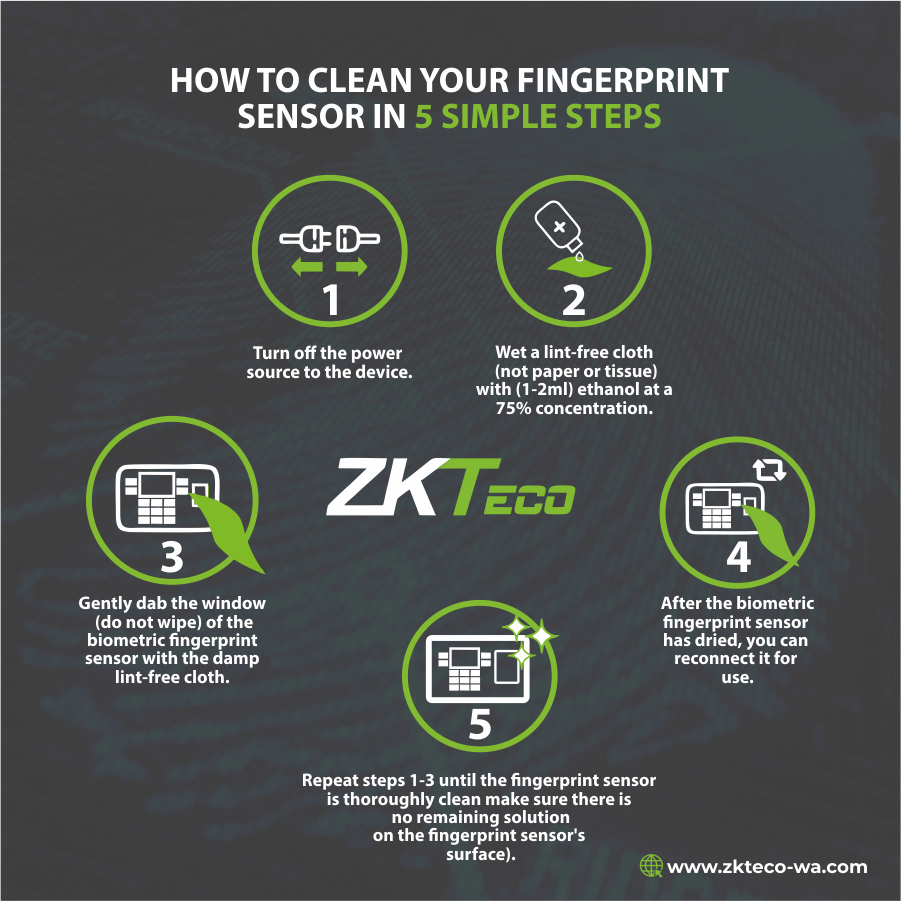 Never, ever, ever, ever, ever, ever, ever, ever, ever, ever, ever do these;

✘DIRECTLY APPLY GLASS CLEANER TO THE READING WINDOW.

✘DIP THE SENSOR IN WATER, KEROSENE, PETROL.

✘USE ANY ABRASIVE OBJECT, INCLUDING PAPER, TO RUB THE FINGERPRINT CAPTURE AREA.
Do You Want Technical Training Tailored Just for Your Team?
As you may be aware, ZKTeco West Africa provides personalized training for ZKTeco products, solutions, and software to distributors, integrators, and clients, with training alternatives to best suit their needs.
If you require a tailored training course or would like to arrange a tour at our Experience Center to meet our team, register here.